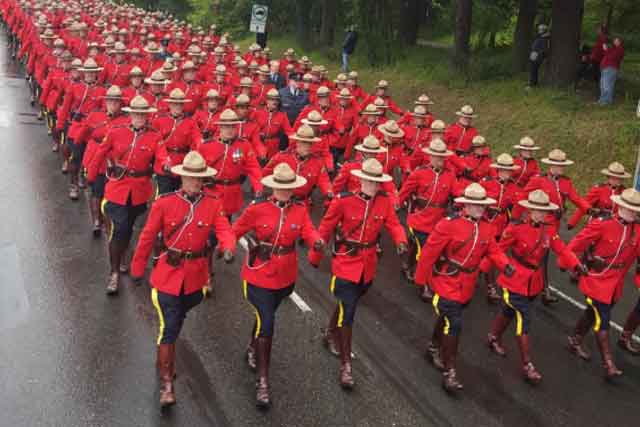 Thousands of people gathered to pay tribute to fallen Constable Sarah Beckett this afternoon at a heart-wrenching RCMP Regimental funeral service in Colwood on Vancouver Island.
The 11-year RCMP veteran died on-duty when a truck collided with her police cruiser in the early morning hours of April 5th.
She was 32 years old & leaves behind a husband and two little boys.
"Your mommy loved you guys more than anyone or anything…" said Beckett's godfather Jack Hayden, who spoke on behalf of the family.
You can watch the RCMP Regimental Funeral Service in it's entirety here:

*Note: You will have to forward the start to beyond the 4:30h mark as the live stream started broadcasting prior to 2pm.
A procession of thousands of uniformed law enforcement marched the Island Highway & Wilfert Road to the Q Centre ahead of the funeral.
Procession just beginning for Const. Sarah Beckett. Hundreds of citizens and first responders here @CTVVancouver pic.twitter.com/Ju8D1TciqI

— Scott Roberts (@ScottRobertsCTV) April 12, 2016
Constable Sarah Beckett arrives at The Q Centre for her final goodbye, surrounded by her brothers and sisters. pic.twitter.com/klKeXXMHio

— Martin MacMahon (@martinmacmahon) April 12, 2016
Proud to be standing on parade w/ 100 @VancouverPD officers to remember Cst Sarah Beckett @WestshoreRCMP pic.twitter.com/U6eVefi37Y

— Adam Palmer (@ChiefPalmer) April 12, 2016
Funeral for Sarah Beckett @Don_Head_CSC #CORRECTIONSCANADA #RCMP pic.twitter.com/uSpn4uajBh

— Jason Warner (@jasonwarnerss) April 12, 2016
Mounties carry Const. Sarah Beckett's body into her funeral. pic.twitter.com/stVaLqyoJ3

— Richard Zussman (@richardzussman) April 12, 2016
The public showed support by attending in person, viewing the livestream from Westhills stadium or online, and wearing red in honour of Constable Beckett today.
Here are more sights & sounds, captured + shared by you today:
Officers at Q Centre ahead of Constable Sarah Beckett's funeral. I'll speaking with mourners here in Colwood at 11. pic.twitter.com/vmh86kMLDf

— Martin MacMahon (@martinmacmahon) April 12, 2016
Conversations
comments