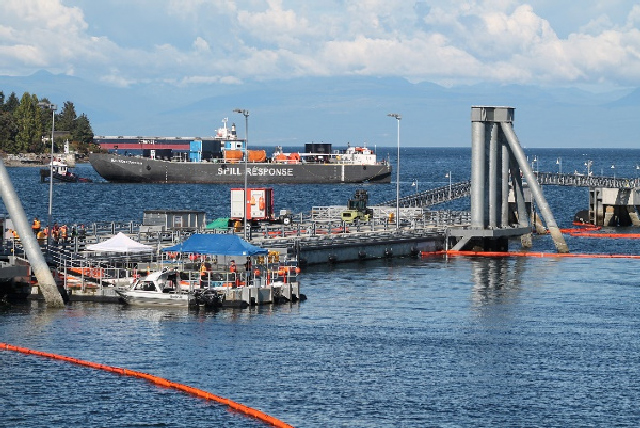 The scenario involved the hard landing of a cruise ship while approaching the berth resulting in a release of 2,000 tonnes of diesel mixed with fuel bunker and hydraulic fluid…
Thankfully, it was just a test.
The Western Canada Marine Response Corporation (WCMRC) has wrapped-up a two-day oil spill response exercise in Nanaimo Harbour that saw
equipment and vessels from WCMRC's South Coast and Vancouver Island fleets deployed.
"While we already have a robust annual exercise program in place, we are always looking at ways to continuously improve. This unannounced exercise will help us to identify any gaps in our planning and ensure our contractor network is strong," says Kevin Gardner, President of WCMRC.
It was the first of it's kind effort on the West Coast… Nearly 60 response personnel and over a dozen response vessels were involved. Transport Canada, Canadian Coast Guard, Nanaimo City, RCMP and a large contingent of support contractors also took part.
President & CEO of the Nanaimo Port Authority Bernie Dumas says "This exercise was a success on many levels. One of the biggest values of the two day exercise was strengthening our relationship with our professional response team."
WCMRC is exploring the establishment of a new response base in Nanaimo… dependent on the Trans Mountain pipeline Expansion Project, which is contingent on a Federal Cabinet decision, expected December 2016.
Conversations
comments